Who said a workout
isn't fun?
A gym may not be for everyone, but our personalised fitness sessions may be just right for you!
We believe that any goal is achievable, and every person should have the same opportunity. We focus on ABILITY!
At Baldivis Health & Fitness we take pride in offering planned and tailored one-on-one sessions and small group sessions under the guidance of our experienced instructor/s who value and understand that each person is unique and work with them in a devoted, compassionate and fun way.
During your Personal Training session your instructor will focus on a customised workout tailored to your goals and your fitness level. You will be supported with posture analysis, rehabilitation therapy, focus on eating habits, lifestyle management and mental health.
In our fully equipped private fitness studio we run one session at a time, so the place is exclusively yours for your one-on-one session and you will always feel supported and encouraged!
With our small group sessions we offer a fast-paced, supportive, fun group class environment that is addictive and no two classes are ever the same.
But don't just take our word for it!  Find your perfect program for the selection below…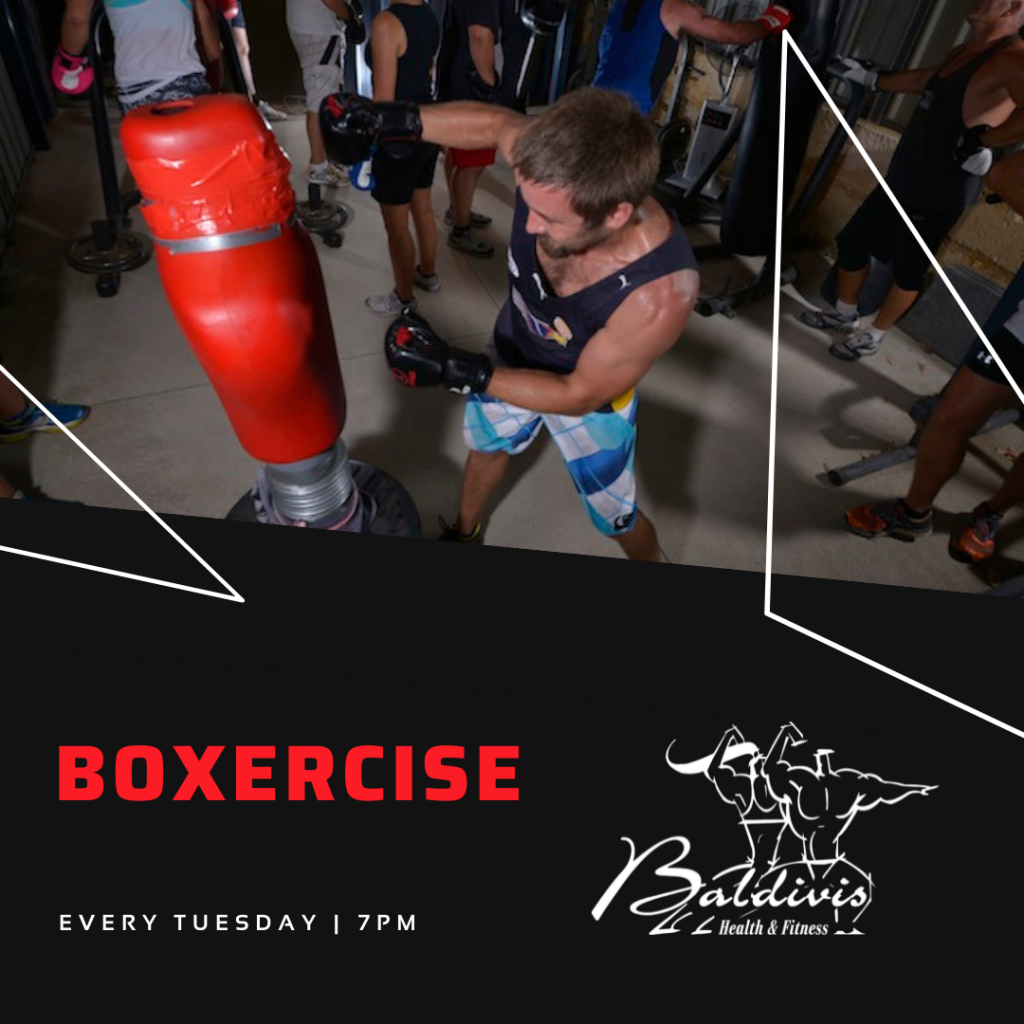 Boxercise is a fantastic workout based on the training concept boxers use to keep fit. You are not just hitting in the air, nor do you hit one another. This high-intensity class will get you in top shape in no time. Fun, social and uplifting classes for adults and teens 12 years up. We combine cardio with resistance training for a full body workout, release stress and keep you on your toes – literally. We use boxing bags, standup boxing man, speed ball and more. No experience necessary. We provide gloves. All fitness levels welcome.  BOOK NOW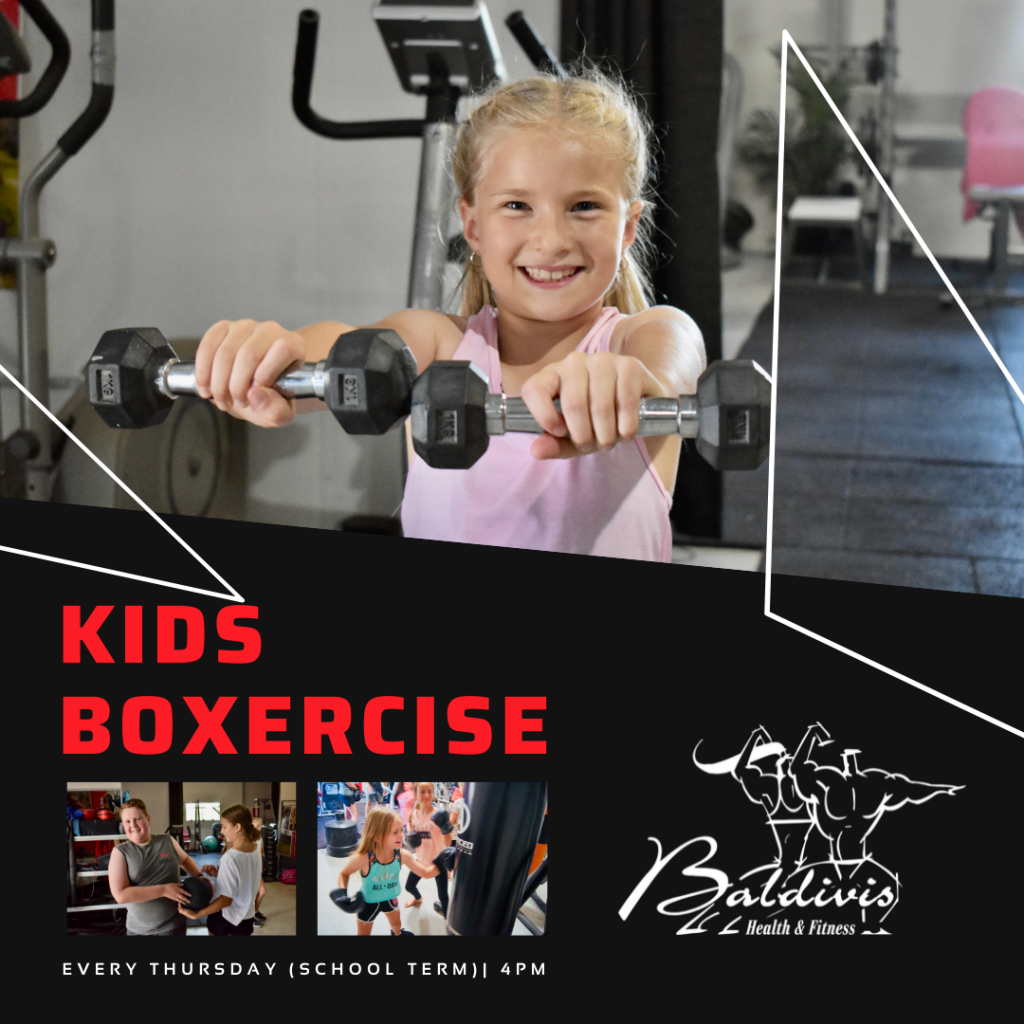 Kids Boxercise will run for 10 sessions on Tuesdays at 4pm during school terms. This class is an excellent fitness class for all kids ages 7 – 14 years (although kids from 12 yo can also participate in the adult class). It's a high variety of fitness and fun including stretching, gym work appropriate for kids, self-defence, and as a treat we even take the kids who like to, on the unique obstacle course, and of course boxing with the boxing bags and stand-up boxing dummy (no physical contact). We provide the gloves; you bring your water bottle and towel. We cannot wait to see you here.
BOOK NOW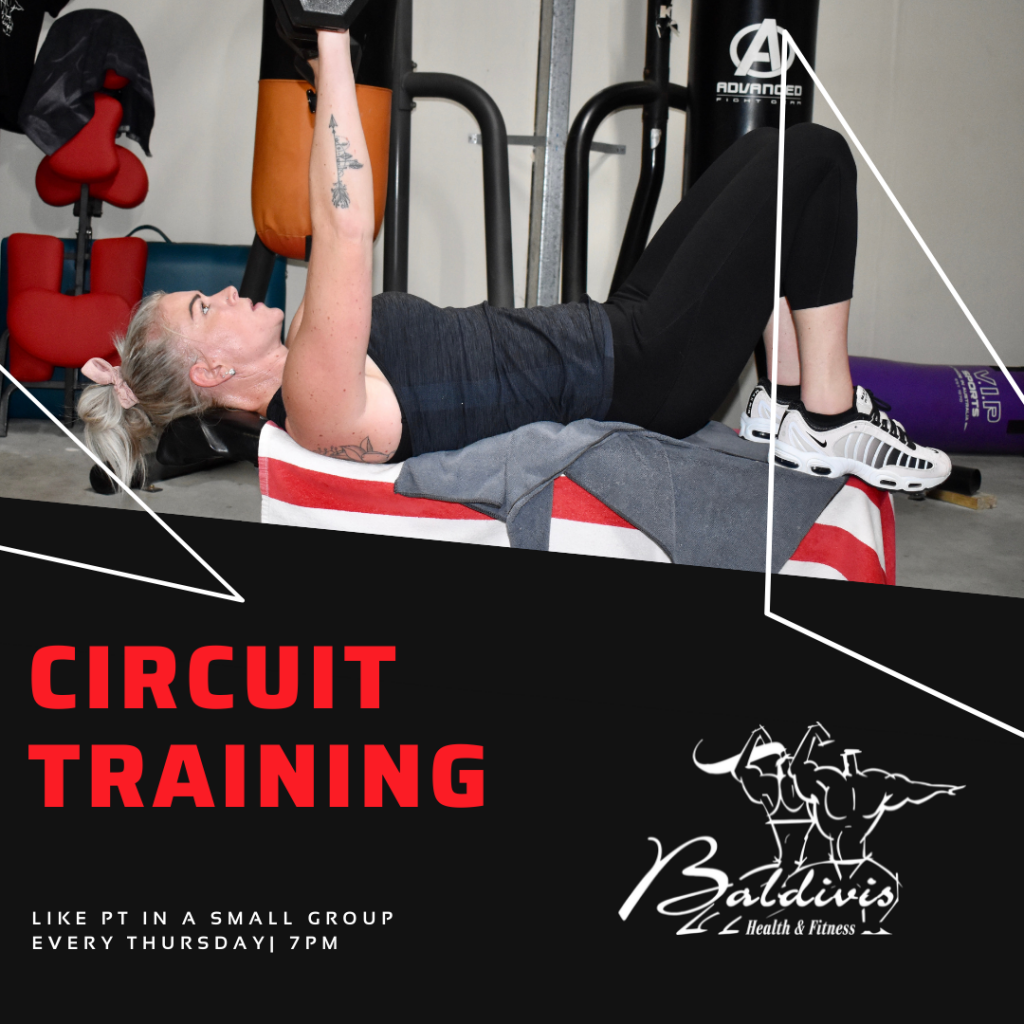 Do you get bored with your regular workouts in the gym? Change it up! Are you not too sure what to do in the gym to train all your muscles? Come along! Moving quickly from one exercise to the next means your mind doesn't have time to wander or tune out.
BOOK NOW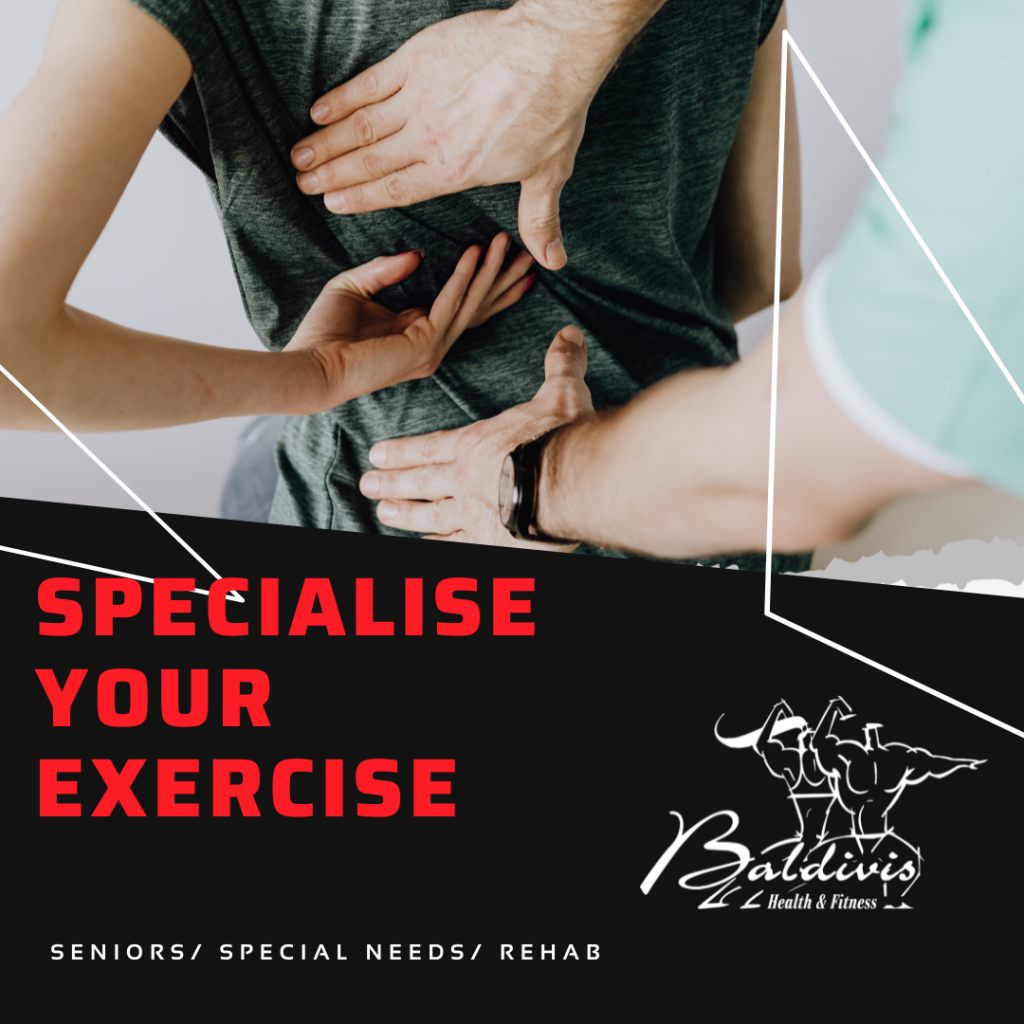 Specially formulated exercise programs for people with a disability, seniors, or those in the rehabilitation phase pre/ or post surgery. We all have special qualities and people with developmental disabilities or those people whose body aren't as fit as they used to be due to injury or age, need to be fit and active just like anybody else. Our special tailored PT session is designed to not only meet typical exercise goals such as increasing fitness and strength and building muscle and confidence; but we incorporate aspects of therapy to improve both mental and physical health. BOOK NOW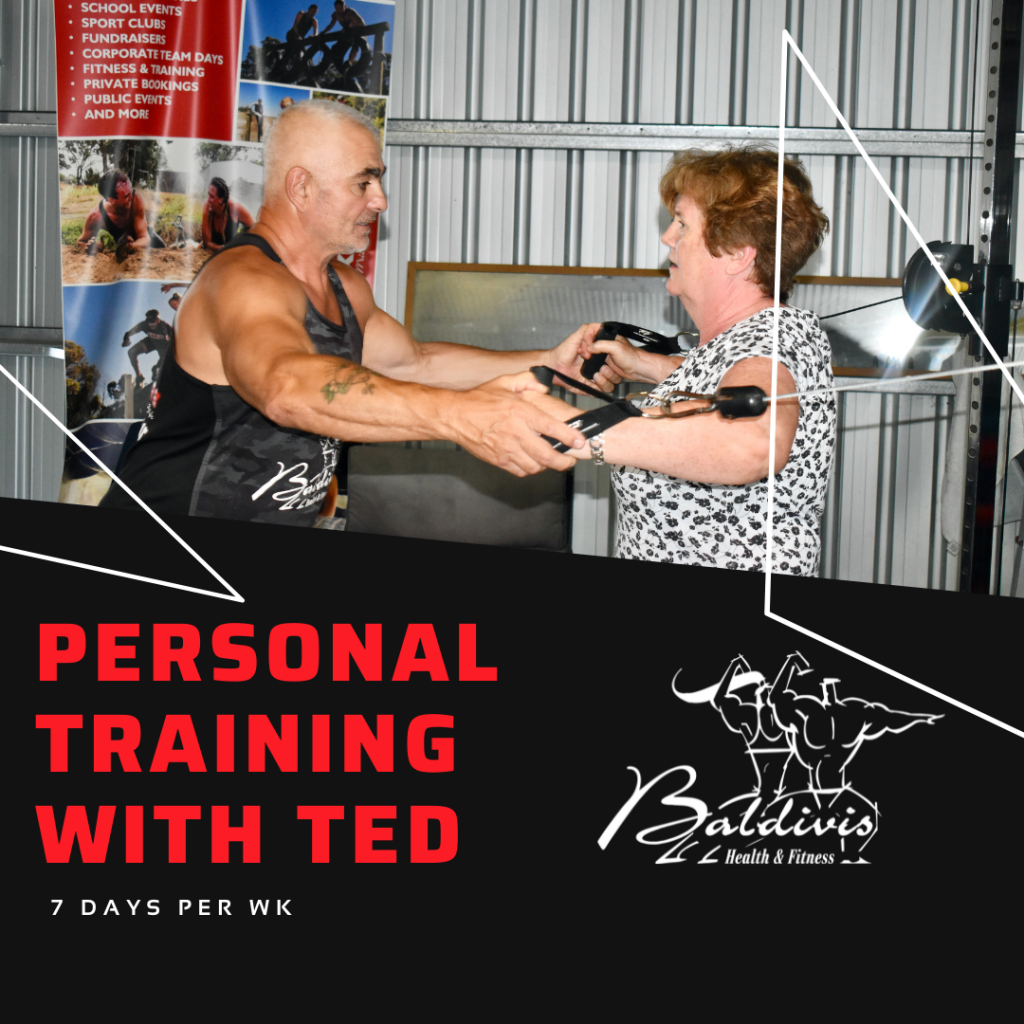 Ted (qualified Personal Trainer) has used his vast experience as Army Physical Training Instructor, where he completed the world's most extreme fitness regimes and trained over 1,000 soldiers, to create a one-of-a-kind Personal Training program that is uniquely designed to suit you. As qualified Trainer/ Masseur, ex body builder and an instructor with extensive experience with individuals with special needs, he is the best instructor for any person on their fitness & wellbeing journey.  Training you can trust.  BOOK NOW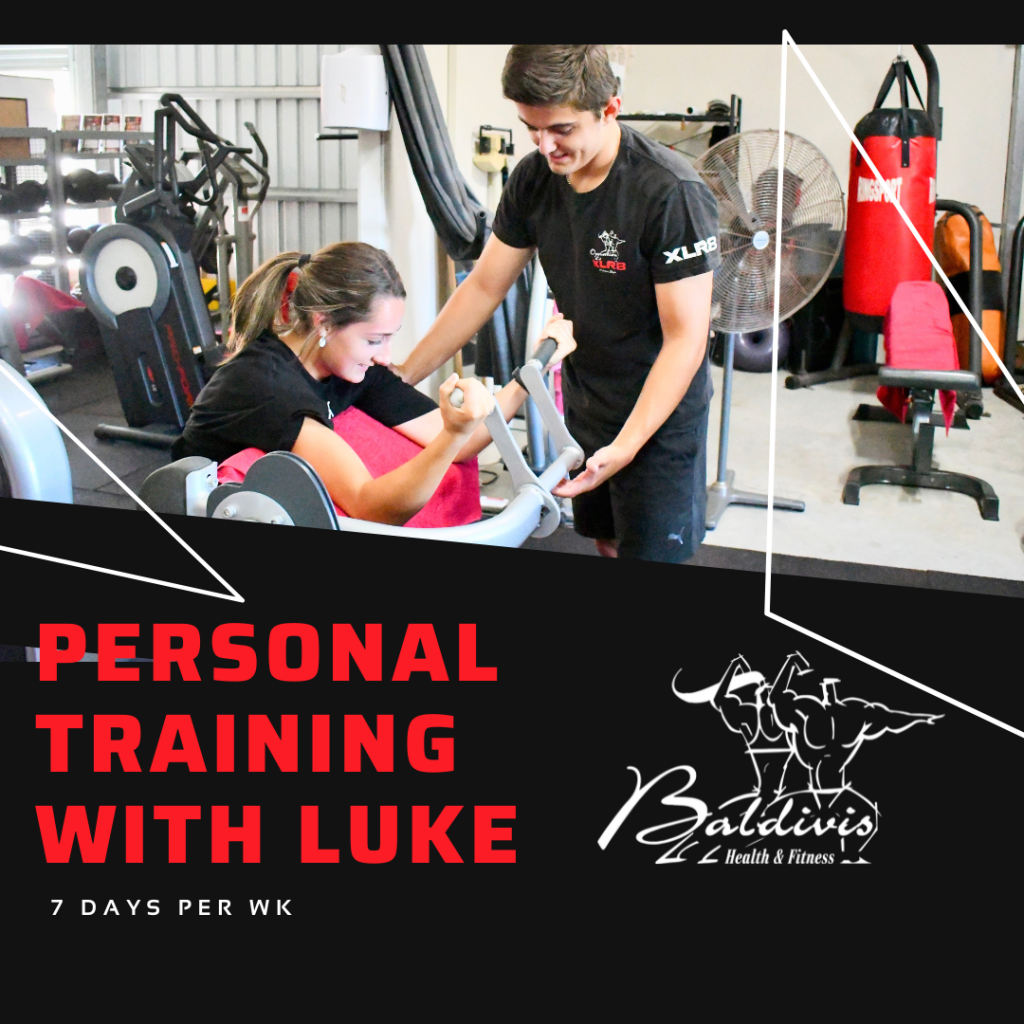 Luke (qualified Personal Trainer) inherited the passion for fitness and started his career in the fitness business from a very young age. During those years Luke has experienced many aspects of the life of a Personal Trainer gaining valuable knowledge and experience about the fitness industry. After running our fitness sessions on the obstacle course and training our kids boxercise classes for many years, Luke completed his studies in fitness in 2021 and has been a valued personal trainer with us ever since. Luke is ready to make your personalised workout your best one yet and looks forward to supporting you in achieving your fitness & wellbeing goals.  Training you can trust.  BOOK NOW
Fill and Submit Baldivis Health & Fitness Waiver Form Here! It is easy and quick. No need to print the form. We will receive it in our inbox. Thank you!
Download Baldivis Health & fitness Waiver Form Here! Please print, Complete & Hand in on the day of your first session or email it prior to baldivisfitness@gmail.com. Thank you!
Your Questions Answered...
Do I need to be fit before I start?

Not at all. In fact, if you're unfit Baldivis Health & Fitness is the best place for you. But one thing is certain: with our energetic and passionate fitness team you'll soon be fit.

How quickly will I see results?

It depends on several factors including how often you attend, what exercise you do, what you eat and drink and what your goal is. But with the correct diet, training and motivation you could start to see some positive changes within 4 weeks.

How do you measure my results?

At your choice, we can measure your progress and results through a revolutionary and unique ultrasound scan system called BodyMetrix.

A comfortable & safe device available for measuring complete body composition. With the data collected we will be able to measure and provide:

Accurate body fat % & lean muscle mass
Identifies relative disease risk
Produces body fat reports & trends
See images of actual fat & muscle thickness

Accurate lean mass or fat free mass weight
Provide clear health and activity guideline
Data for hormone balance relating to fat loss

If you like to know more feel free to contact us.

What is a program vs. a session?

A session is a one off workout session, also called a casual session. For example: one Personal Training session, one Massage session; one (1hr) Boot camp session; one (1hr) Boxercise session.

A program is a 10 weeks indoor fitness program. People sign up for the program to be assured of their place in their specific and preferred class(es) and to benefit from the discounted program fee.

A program term is always in line with the school terms and is over 10 weeks.

How many sessions does a program cover?

You choose the program, (for example Boxercise), the day  (for example Tuesday) and time (for example 7PM) and for 10 weeks, eg. 10 sessions you have your place secured in that group with your new fitness friends, on that day at that time.

Do I have to book or register for each session?

NOT for boot camp, you can just come along and join in at  any or all our sessions.

YES to all one to one sessions. You book your own individual Personal Training session, Massage Therapy or BodyMetrix session directly with your own Personal Trainer or Therapist via our contact page on the website, email, phone, social media or text.

To attend an one off indoor fitness session such as Circuit, Boxercise, Body Sculpt or any other indoor fitness program, we prefer you to let us know if you are coming, but in those cases that it is not possible, we are still happy for you to turn up and join in.

How do I register for a program or an individual session?

The registration for the programs will be open before each new term on the website. Alternatively if you already attending our sessions, you can also do this in person directly with us.

Individual Sessions can be booked by contacting us directly before or on the day via phone: 045 041 2019, via email: ted@baldivisfitness.com.au, via social media: www.facebook.com/baldivisfitness or via the contact page on the website.

What should I wear?

We recommend enclosed footwear is worn at all times and appropriate workout attire in which you feel comfortable. You don't have to but you may bring a towel to each session for use on the studio equipment.

How old do I need to be?

Participants must be at least 15 years of age to participate in the adult sessions.

Children aged between 12 and 14 can participate in an adult session with our prior approval and only when accompanied by a supervising adult.

For our kids' sessions participants must be at least 7 years of age.

What do I bring?

We recommend you bring a filled water bottle and a towel

Should I eat before a workout?

We recommend that you eat no later than 1 hour before a workout.

What etiquette do I need to follow in the studio or at your outdoor sessions?

We love a great attitude, respect for one another, humor and positivity but if you had a bad day or aren't feeling on top of the world, you will definitely walk away feeling better than how you felt when you came!

For all Multi Level Marketing consultants; we love you to train with us. Use this time to fully focus on YOUR health, fitness and wellbeing and let's leave work and business behind you for that one hour. We all need a break sometimes! Our clients have made a choice to come to train with us and we like to protect them and ourselves for unwanted sales pitches before, whilst and after they participate in our sessions.

What are multi session cards?

We like to offer our clients the best service for the best price and certainly like to appreciate those clients that come to us regularly and repeatedly. Therefore we have introduced the multisession cards for Personal Training, Boot Camp and they are also available for Massage Therapy and BodyMetrix consultations.

The multisession cards offer a discounted rate by purchasing 10 sessions, 20 sessions or 100 sessions in advance.

Can I put my multisession card on hold?

Only if you have received the good news that you are pregnant or have an injury which causes you to temporary stop all physical activities.

I have an injury/illness. Can I still workout?

Yes, but we'd recommend you get the OK from your doctor before working out. Research has shown that regular exercise can prevent, slow down and even reverse some symptoms. Our team has experience creating exercise regimes specific to injuries and illness so ask a member of the fitness team for advice and support.

I am pregnant, is it safe to workout?

The level of exercise during pregnancy is usually determined by pre-pregnancy fitness levels. As you've not been exercising recently you need to make sure you follow a more conservative exercise plan and progress things slowly.

We recommend you book in with our Instructor. They'll help develop your personal fitness plan.

Circuit could be a good option but you would need to tell the Instructor your good news.

Do you have a crèche?

No, we are not a gym, we are a private fitness studio and don't have the facilities and trained staff to look after your previous  baby's and toddlers.

Can I bring my child?

You can certainly bring your child to the boot camp sessions either in their pram, stroller or if your child is old enough for him/ her to sit or play on the side.

If you have a Personal Training session booked please contact us prior to discuss as in some cases we can work something out.

Unfortunately it is not a good idea for your child to accompany you to our Group Exercise classes in the studio. A lack of a safe area or place for your child to sit is just not available.

Can I get a refund?

It's pretty straightforward; we don't do them.

Sorry to sound so mercenary but we planned each program on the basis.

We understand that sometimes people can't attend for valid reasons like unexpected injuries and if you can't make a particular prepaid session we'll try to accommodate you on a future one but we can't guarantee anything.

Where do I park?

Parking is available but please be mindful and respectful of our neighbours, we love them and like to keep the great relationship we have with them.

Although we never had a problem we do remind you to adhere to the City's parking laws including but not limited to:

No parking on a corner or within 10 meters of a roundabout

If you are interested in finding out more you can find the City of Rockingham Parking and Parking Facilities Laws at www.rockingham.wa.gov.au

Do I need to take a protein powder and pre-workout supplements to gain muscle?

Supplementation is exactly that, a supplement to a great diet, it will not replace a healthy well balanced diet. However the convenience of a protein drink after a workout, when your body is really craving protein, is very handy.

To increase lean muscle mass protein is essential, if you cannot get this from a quality food source then a protein supplementation may be beneficial. You can pick one up from us or speak to us about the proteins we sell at very good prices.

What types of exercises should I do to build muscle and tone my arms, bum and legs?

A good idea might be to try one of our new Muscle Mania or BodySculpt classes as these place a lot of focus on increasing muscle and toning the body through a variety of reps with higher weights pushing you to your next strength level.

How can overweight people get motivated?

My first instinct is to recommend support from a Personal Trainer. Other ways to keep motivated are to start a fitness journey with a friend, so now you are sharing motivation. You can also find exercise that you enjoy, something which you may look forward too! You can also start with small steps, and you may be surprised that after you see that first kilo or 2 drop off, suddenly the motivation kicks in! Start now though, don't wait for better weather or the right time – there is no better time than now!

Why do you sometimes change the location of boot camp and how will you let me know?

We have the incredible advantage over all other boot camp groups that we have the option to go indoors in our studio when the weather is awful, when the park is too wet and when it simply would not be as fun and safe to workout outdoors.

The location is exactly the same as our studio is at the same address as the park and we will ALWAYS let you know via our Facebook page: www.facebook.com/baldivisfitness.