Looking for A Qualified and experienced personal trainer in Baldivis?
meet Ted and Luke Blackshaw
Welcome to our personal training studio in Baldivis! We are here to help you get fit and healthy with our experienced trainers.
At our Baldivis fitness studio – Baldivis Health & Fitness, we believe that fitness and health are important for everyone, no matter how old you are, what your abilities are or what your current fitness level is. That's why we have personal trainers who are experts at helping people of all ages and of all abilities reach their fitness goals.
Getting and remaining healthy has so many benefits! You'll feel better, have more energy, and be able to do things you never thought possible. Plus, being healthy can help you live a longer and happier life.
Our qualified and experienced personal trainers will work with you to create a personalised fitness plan that fits your goals and abilities. We'll help you get started with exercises that are fun and challenging, but also safe and effective.
So come and join us at our personal training studio in Baldivis! We can't wait to help you become the healthiest version of yourself.
Designing Exercise Programs
Train With Experts and get results
Ted & Luke Blackshaw
Personal Trainers in Baldivis
BIO – Personal Trainer Ted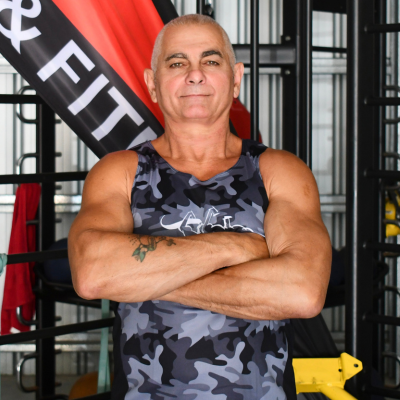 Ted (Owner / Physical Training Instructor) has used his vast experience in the fitness industry to create a one-of-a-kind Personal Training studio that is uniquely designed to suit your needs and goals.
Starting as an 18-year-old soldier, Ted completed the most extreme fitness regimes to become part of the elite physical training corps as an Army Physical Training Instructor.
After 13 years as PTI in the Army, Ted worked as a Physical Rehabilitation Therapist, with his areas of expertise being biomechanics, injury management, rehabilitation, and specialized fitness programs for people with special needs.
In 1994 Ted decided to open his own fitness gym in the UK which he sold to make the big move to Australia with his family in 2009. Ted established Baldivis Health & Fitness in the same year opening the first private Fitness studio in Baldivis and opening the XLR8 Obstacle Course in 2014, the only outdoor obstacle course in WA – winning many business awards since.
Ted is particularly passionate about training people who believe they can't, including injury/ surgery rehabilitation, people with special needs/ a disability, and those suffering from a physical- or mental health condition, and changing their lives through fitness!
With exceptional qualifications, knowledge, experience, and Ted's up upbeat personality, plus not to forget a proven track record of success, his fitness sessions are uniquely effective whilst making it enjoyable.
Available 7 days per week for one-on-one, buddy, or small group Personal Training.
BIO – Personal Trainer Luke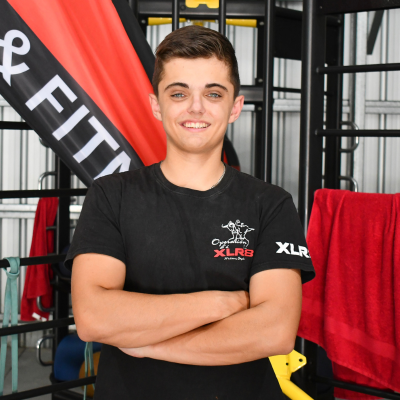 Luke (Personal Trainer) inherited the passion for fitness and started his career in the fitness business from a very young age.
During those years Luke has experienced many aspects of the life of a Personal Trainer gaining valuable knowledge and experience about the fitness industry, the value that health & fitness is so much more than physical appearance but rather the combination of a "healthy body, healthy mind" and insights into clients' aspirations, needs, and goals.
In 2017 Luke started as a group exercise instructor at XLR8 Obstacle Course and has passionately, energetically, and enthusiastically run 100's of groups of individuals over the course improving their fitness, fun, and wellbeing.
Luke further improved his skills as an instructor at local schools, being given the opportunity to instruct various sports programs.
Since Luke has successfully completed his Certificates 3 & 4 in Fitness, Luke quickly discovered that his passion for fitness was becoming part of his calling and vocation. His favorite individuals to work with are those who are keen and willing to improve their health and fitness and are open to the support, education, accountability, and a personalized plan of attack.
Luke will make the process enjoyable with his fun, relatable and approachable character.
Luke is now running various classes and sessions in the studio for his own clientele.
Available Monday – Saturday (TBC) for one on one, buddy, or small group Personal Training.
Copyright 2023 Baldivis Fitness